Ever wondered why corporate companies reward their clients and valuable business partners with gifts?
The answer is simple — these business associates are critical to your business, and you cherish their involvement in your organization.
When you offer corporate gifts to your clients, it helps you in multiple ways, including:
Ensures higher customer retention
Shows your appreciation
Acts as a brand recall catalyst
Promotes loyalty for your brand or business
Prevents customer churn
Gifts aren't just for clients and business partners, though. Corporate gifting even works wonders for your employees, vendors, potential clients and NGOs. Irrespective of who is the recipient, the objective of corporate gifting is simple — to cement your relationship for continuous success and better business bonds.
However, you can't rely on the same old gifts that have been in the corporate gifting catalogues for decades. Want to make a lasting impression on the receiver? Time to come up with creative and innovative gifting ideas.
Here are our Dos and Don'ts of Corporate Gifting that help us help you at Prime Gifts!
Do's of Corporate Gifting:
Do Keep it Personal and Practical
Generic and impersonal gifts can be a waste of time and money. Not to mention, it wastes an opportunity to build on a useful gesture for your business. Instead, consider who you're giving the gift to, and try to make it as personal and practical as possible. For instance, a beard trimmer works well on Father's Day if you have a large number of dads/men in your organization. It helps your team save time every morning, too. Similarly, a pair of noise cancellation headphones can be a super practical gift for your WFH teams!
Do Get Creative
Gifting doesn't necessarily mean Parker Pens on birthdays or sweet boxes on Diwali anymore. You've got to think outside the box and come up with a thoughtful gift that your client or team might not have expected. The wow factor will do wonders for your business. For instance, if you're promoting healthy lifestyles at work or conducting a Yoga Day workshop, consider gifting Fitness Bands!
Do Show Genuine Appreciation
Festivals aren't the only times you can show your gratitude and appreciation to your clients and teams. In fact, when you show appreciation when it's least expected, it delivers maximum results and changes someone's perception of your relationship. Birthdays are a great occasion to show appreciation, or even work anniversary hampers are super smart gifting times.
Don'ts of Corporate Gifting:
Don't Compromise on Quality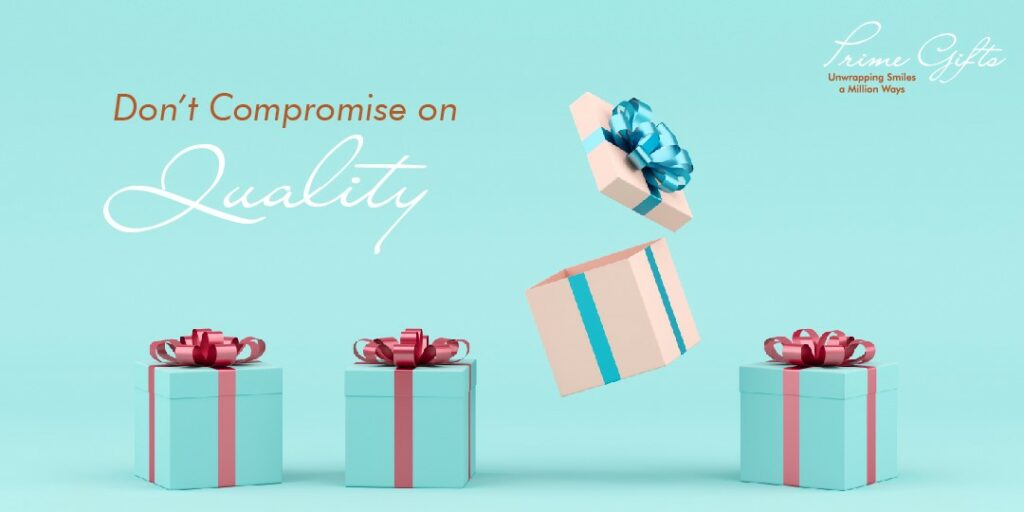 The gift you're giving to your employees or clients will directly impact your reputation before them. If you want to be recognized as a trustworthy and premium brand, make sure you don't compromise on the quality of gifts. Have a budget beforehand and ensure you get the top-most-quality gift at your desired price.
Don't Over Promote
Sure, the objective of your gifting campaign can be related to a marketing challenge, and you may be tempted to promote your brand as much as possible. However, avoid big logo stamps or engravings or super-promotional messages in your gifting plan. It will anyway ensure brand recall; you don't need to spell it out!
Don't Miss the Mark
Corporate gifts need to be appropriate in terms of your office culture, community and country you operate in. As an employer, it's important to know that corporate gifting is way more difficult than personal gifting as it includes various guidelines. Your gift shouldn't be overly personal, sensitive or casual. It's easy to miss the mark with corporate gifting if not done right, and it will result in wastage of money and lower brand perception in the minds of your clients or teams.
Finally, don't forget to have fun in the process and make it as warm, loving and caring as you can for your receivers. Gifting is an emotion, and at Prime Gifts, we make sure it is a happy one, not a stressful one!
To get started on creative and personalized corporate gifting ideas — Visit http://primegiftsworld.com/ or call +91 93267 24332