The year is almost over, and it's time to move forward with new hopes and dreams for a fulfilling future. One of the best ways to commemorate the new year is to offer your employees, clients and customers some enticing gifts. At Prime Gifts, we specialize in New Year gifting ideas, with many personalized and customized solutions for all budgets and requirements. If you're looking for unique gifts that promote positive energy and enthusiasm, check out our finest new year gifts for 2022.
1. Write the Future with Engraved Diary and Pen:
You can't go wrong with stationery, especially when it's a new year gift. While a diary and a pen are some of the most common gifts for the new year, it's also one of the most desired gifting ideas. Almost all professionals need a diary and pen when they start working in the new year. Plus, it stays with them till the end of the year, so you can be assured that your gift will be highly functional. If you can engrave it with your company logo or brand identity, you also get to spread your brand messaging in a cost-effective way. Another popular engraving option is to get your employees' names on each diary for an added touch of personalization.
2. Befriend Time with Calendars: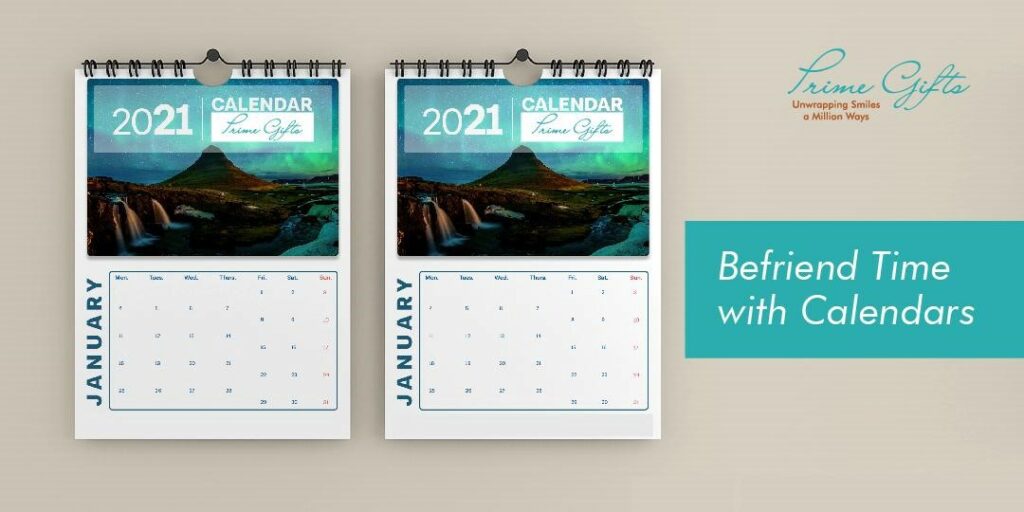 Table and wall calendars are another popular new year gifting solution for many IT, healthcare, pharma and real estate companies. Your employees will use this calendar for the entire year and it can be an excellent way to ensure brand recall. You can gift calendars with some chocolates and sweets to begin the new year on a positive note. At Prime Gifts, we can help you with all types of calendars — visual, photographic, quirky, inspirational, classic or any other kind that you may desire.
3. Drink in Style with Coffee Mugs & Bottles:
Since the pandemic, it's become more important than ever to have their own bottle and mug at work. If you're calling employees back to work in the office soon, this is a great gift to boost their morale and ensure safety at the workplace, too. We can personalize the mugs and bottles with your employees' names and offer premium quality products that align with your brand values. With mugs and bottles, you can also ensure that your team members remember you every morning or every time they drink water — that's a perfect recall opportunity!
4. Go Green with Plants & Planters:
If you're looking for a new year's gift that also promotes a social message or resonates with your brand values and personality, plants and planters are an excellent idea. They spread positivity at the work desk or at home and help our environment, too. At Prime Gifts, we can offer you various indoor and outdoor plants and stylish planters that make insta-worthy pictures as well. It's also an excellent sign of prosperity and growth to give plants on New Year's Eve.
5. Embrace Progress with Gadgets & Backpacks:
Another evergreen gifting idea is gadgets for any occasion. However, there's something special about receiving your favourite gadget on 1st January! Along with headphones or Bluetooth speakers, you can consider unique items like fitness trackers or smartwatches, power banks, tablets, smart lamps, home assistants and more. Backpacks are one of our bestselling gifts on all festivals, including New Year's Eve, as it is one of the functional gifts you can offer to your team members. We have a wide range of gadgets and backpacks to fulfil your gifting requirements!
This New Year's, spread joy and happiness with Prime Gifts. Choose smart and sustainable gifts that make an everlasting impact on your team members or customers.